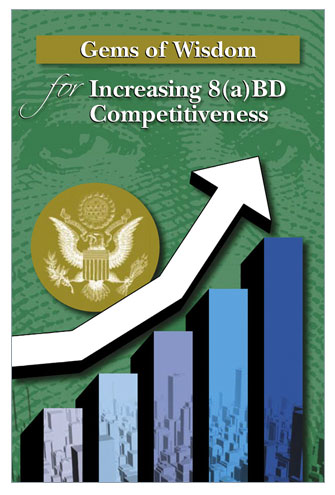 $19.99 plus $5.01 S&H
Price: $ 25.00 (USD)
Gems of Wisdom "For Increasing 8(a) BD Competitiveness"
"For Increasing 8(a) BD Competitiveness"
By Dr. Sharon T. Freeman
M. Charito Kruvant (Paperback)
AASBEA, July 2008
ISBN 978-0-9816885-0-3
Foreword by Verl Zanders
Gems of Wisdom for Increasing in the 8(a) BD Program and Beyond, the forerunner to this book, imparted brilliant "gems of wisdom" of some of the most successful 8(a) entrepreneurs, many of whom I have had the pleasure of working with over the years.
The numerous "gems of wisdom" contained in the previous publication covered the waterfront in highlighting what aspiring federal contractors should know and do to successfully navigate the federal procurement maze. A lot of the information was just plain old common sense, combined with a thorough understanding of the game. It's a must read for new kids on the block, and a reminder for others!
This sequel, Gems of Wisdom for Increasing the Competitiveness of 8(a)BD Firms, is also a must read, as it imparts "gems of wisdom" from the other side of the fence.
This book raises the voices of those who work with 8(a)BD contractors, which is important in completing the circle of knowledge about "How to Do Business with the Federal Government."
Collectively, in providing the perspecti ves of contractors who have navigated the federal maze—through the first "gems of wisdom," and presenting the perspectives of those who are involved directly and indirectly in facilitating federal procurements, a road map for success is presented in this book.
No doubt, federal contracting can be lucrative but it requires an understanding of the complex and exacting procedures and rules imposed by the federal government. Possessing knowledge of the federal procurement system goes a long way toward improving the chances of winning and successfully performing government contracts. Understanding the human dimensions of life can take the enlightened contractor even further.
I have learned over the years that "people buy from people," and that "the government doesn't buy, people do." The federal government ha s excellent, dedicated people, but they are understaffed, overworked, under-trained, under-supported and, unfortunately, under-valued. Consequently, government program managers depend on contractors to assist. Thus, contractor selection is a critical decision, and the decision is usually based on human considerations and on a strong relationship of trust with contractors.
The massive size of the federal government may give the impression that it's an impenetrable bureaucracy. Yet at its core, federal contracting is fundamentally a people-to-people business.
As federal rules governing contract awards have continuously changed and become more complex over the years, it has also become increasingly difficult for small business facilitators like the Offices of Small and Disadvantaged Business Utilization (OSDBUs) to allocate equal tim e to the many firms that approach them. Therefore, there's a discussion they deliver to the masses and another one they reserve for individuals. Ask yourself which one you are and what your "competitiveness discriminators" are to enable you to command special attention.
Here's a "gem of wisdom:" Anyone can be a small business owner, but not everyone is an entrepreneur. In my opinion, entrepreneurship requires knowledge, confidence, capability, and the ability to inspire others. It's the latter portion of the formula that is particularly important. Entrepreneurship is a state of mind; it's a will to adventure and push the envelope. Clearly, all small business owners develop some of these traits, but having a true entrepreneurial spirit is to possess that special X factor that enables you to command attention.
Here's another "gem of wisdom:" Since the federal government buys repeatable goods and services, look at existing suppliers and develop similar profiles. When I was on the federal side, I would describe companies as bodies with interchangeable heads. The body is the core of expertise with past performance, and the head is the new owner. New owners (heads) come into the game looking for the existing expertise (bodies) that they need to acquire. Such is the circle of life in federal contracting!
I have had the good fortune of being on both sides of the government contracting fence.
It all started in 1973, when I began my federal government career. During my tenure with the federal government, I served as a Contracting Officer, Procurement Analyst , a Procurement Center Representative (PCR) for the U.S. Small Business Administration (SBA), and as Director of Small Business Programs at the Office of the Secretary, U.S. Department of Health and Human Services (HHS) for over 10 years. As a procurement professional, I developed a deep understanding of how the federal government works.
After retiring from the federal government in the latter part of 2000, I capitalized on the institutional knowledge I gained while serving in the government and leveraged it –in the true spirit of entrepreneurship– and started my own business as a federal contractor.
Over a six-year period, my firm grew from just 4 employees to over 300 employees at its peak, during which time it earned recognition for its achievements at the National, State, and local levels. It was ranked #2 in 2005 on Washington Technology's "Fast 50" list of Government Contractors; it ranked #90 on Black Enterprise Magazine's "2006 BE 100;" it was awarded the 2006 Tech Council of Maryland (TCM) prestigious "Government Contracting Firm of the Year" award; and was selected as Montgomery County Chamber of Commerce's "2006 Emerging Business of the Year."
In 2007, I beat my own odds: I sold my business in six years rather than in the ten I had planned.
For me, learning the art of "hearing and adhering" to the desires of federal government end users was the key to success. When I paid attention and listened to them, they helped me. Specifically, they assisted me in identifying opportunities and directing me to information and contacts that helped me capture the opportunities.
And here's my last "gem of wisdom:" Never think about marketing to "the federal government." The market needs to be broken down into logical segments that can be dealt with one segment at a time. How do you eat an elephant? One bite at a time.